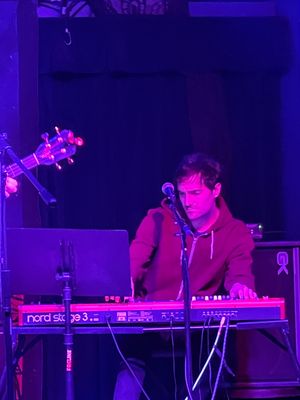 Rear View Mirror
Words and Music - Fred Callaway
Appears on Our Green World
INTERLUDE (and intro) 
F#     E  B (x3)     F#      Esus7 
VERSE 
F#              A69             B/E 
We were driving home / from the hippodrome 
F#           D               E 
Won a ton of cash / drinking sour mash 
F#              A69             B/E 
I was cruising along / you were hitting the bong 
F#                    E              C#sus7 
We were laughing like hell / feeling pretty swell 
F#              A69             B/E 
Came upon a town / wasn't slowing down 
F#           D               E 
It was past midnight / not a person in sight 
F#              A             B         C#7 (#9) 
Near an old gas pump / felt a real hard thump 
(break!) .... and I said 
CHORUS 
F#                    A         B 
You're looking in the rear-view mirror 
F#                  B/Eb    E9 (Maj 7) 
But I'm just trying to forget 
F#                A      B 
I told you that I didn't see her 
Esus7               C#sus7 
You sure she hasn't stood up yet? 
INTERLUDE 
I wouldn't call it assault / it was really her fault 
Standing in the street / being so discreet 
She was wearing all black / needle in a haystack 
She was easy to miss / but easy not to miss 
INTERLUDE 
Pulled over for a bit / took another hit 
She was still lying there / hope she has healthcare 
Then a man came out / he was starting to shout 
Your face filled with dread / and I said 
CHORUS 
I was speeding away / trying to allay 
Your anxious affect / you were circumspect 
What's your problem I asked / you looked at me aghast 
I was unabashed / the police lights flashed 
BRIDGE 
(Siren sounds) 
F#m C# D F          (4x whole notes) 
F#m A G# G          (4x half notes 
F#m Cdim Bm7 Esus7  (4x quarter notes) 
F#m E B/Eb D        (4x eighth notes 
Then this thing: 
C#7 (#5/#9)  DMaj7  E  FMaj7 ... twinkle into the distance ... 
INTERLUDE 
F#     E  B (x3)     F#      Esus7 
LAST VERSE  (chords copied for your convenience) 
F#                 A69           B/E 
In the back of the car / looking through the bars 
F#               D             E 
You were sobbing away / I felt pretty okay 
F#               A69               B/E 
Just a matter of time / is driving drunk a crime? 
F#               E          C#sus7 
She was probably dead / but I said 
CHORUS 
F#                    A         B 
You're looking in the rear-view mirror 
F#                  B/Eb    E9 (Maj 7) 
But I'm just trying to forget 
F#                A      B 
I told you that I didn't see her 
Esus7               C#sus7 
You sure she hasn't stood up yet?
 Copyright 2021   Ten Ton Chicken